A STRATAGEM Member was given this year's 'Top Publications' Award by the Slovak Academy of Sciences
RNDr. Dana Jurkovicova, PhD, a Management Committee member of STRATAGEM was among the award-winning scientists.
RNDr. Jurkovikova's work on the publication "The multi-factorial nature of clinical multidrug resistance in cancer" in "Drug Resistance Updates", was awarded in the category of top publications at the Slovak Academy of Sciences's (SAS) annual awards ceremony. The publication is the result of an ongoing collaborative activity between scientists, participating in the research network, created by STRATAGEM COST Action.
The SAS Awards are the highest form of rewarding the creative activity of scientists. This year's awards ceremony took place on June 23 at the Congress Center of the Slovak Academy of Sciences in Smolenice.
The award-winning publication, authored by Yehuda Assaraf, Anamaria Brozovic, Ana Cristina Gonçalves, Dana Jurkovicova, Aija Linē, Miguel Machuqueiro, Simona Saponara, Ana Bela Sarmento-Ribeiro, Cristina P R Xavier and M Helena Vasconcelos, aims to provide a new perspective on the multidisciplinary and interdisciplinary features of MDR cancers. It emphasizes on approaches by which deciphering the molecular mechanisms underlying anticancer drug resistance, will pave the way towards the development of novel precision medicine treatment modalities that are able to surmount distinct and well-defined mechanisms of anticancer drug resistance.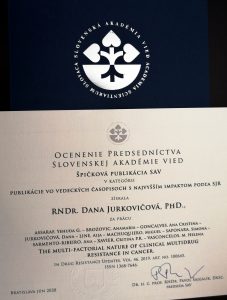 The SAS awards were handed over by the President of the SAS prof. RNDr. Pavol Sajgalik, DrSc. in the presence of the Spokesman of the SAS Assembly PhDr. Zuzana Kusa, CSc., Vice-Presidents of the SAS Departments of Sciences RNDr. Pavel Siman, PhD., Prof. RNDr. Karol Marhold, CSc., RNDr. Miroslav Morovics, CSc., and the Vice-President of the SAS for Science, Research and Innovation prof. RNDr. Petr Samuely, DrSc. The invitation to the ceremony has been accepted by Richard Vašečka, Chairman of the Committee of the National Council of the Slovak Republic for Education, Science, Youth and Sport, Štefan Rozkopál, Head of the Office of the President of the Slovak Republic, Ľudovít Paulis, State Secretary of the Ministry of Education, Science, Research and Sport of the Slovak Republic, Radoslav Kutaš, State Secretary of the Ministry of Culture of the Slovak Republic, representatives of Universities and members of the Scientific Council of the SAS.
In the category of top publications were also awarded: Ing. Jaroslav Kovacik, PhD. (Institute of Materials and Machine Mechanics SAS), Dr. Rer. Nat. Peter Šiffalovič, Ph.D. (Institute of Physics SAS), RNDr. Jozef Kacmarcik, PhD. (Institute of Experimental Physics SAS), prof. RNDr. Karol Marhold, CSc. (Center for Plant Biology and Biodiversity SAS).