Annual Conference in Belgrade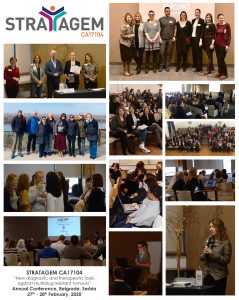 Laboratory for Molecular Neuro-Oncology, Department of Neurobiology, Institute for Biological Research "Siniša Stanković" – National Institute of the Republic of Serbia, was the Local Organizer of Annual Conference of COST Action of CA17104 STRATAGEM "New diagnostic and therapeutic tools against multidrug resistant tumors", held from February 27th- 28th, 2020 in Belgrade

.

Eighteen lecturers shared their research in oncology, chemistry, toxicology and bioinformatics with over 90 participants of this international conference from 22 countries.

The first day started with inspiring invited lecture by Prof. Isaac Witz: When Circulating Tumor Cells Meet the Metastatic Microenvironment and continued with Dr. Mattia Mori's invited lecture dedicated to the memory of one of the greatest chemists in Europe Prof. Maurizio Botta: Switching from 14-3-3 to Carbonic Anhydrases through hit recycling. MC Meeting was held with the participation of 22 countries and the quorum of two-thirds was verified. In addition, special attention was given to the education of young scientists through the round tables "Meet the invited speakers", "MDR research towards therapy" and "MDR research towards diagnostics".

At the end of the first day, participants enjoyed a unique social event: a Folklore Concert of ensemble LOLA with an astonishing performance in a beautifully decorated dance hall.

The second day started with the invited lecture of Dr. Goran Mitulovic: Relevance of Proteomics Regarding Clinical Research and Clinical Application and continued with the invited lecture held by Dr. Davorin Radosavljević: Targeted therapies in oncology – clinical advantage and resistance. Again, young scientists had their stage as they presented 7 successful STSM stories. Three selected posters presentations competed for the Best Poster Prize that was awarded to Miglė Paškevičiūtė for her work Application of carbonic anhydrase IX/XII inhibitors to modulate the transport of doxorubicin and its liposomal form into 2D and 3D cancer cell cultures. The Annual STRATAGEM Meeting was concluded as a success with a number of newly established collaborations, many expressed interests for the STSM and ITC grants and importantly significant contribution of Early Career Investigators.

You can find more information on the presentations in the Abstract book.

In the end of the second day, we had a Gala Dinner in a friendly atmosphere of the restaurant Amici.

Several participants had an opportunity to explore Belgrade during Guided Tour organized on the third day.